Some of you had asked me to sponsor children at the orphanage on your behalf which I did with the greatest of pleasure. I will be getting back to you individually. The girls are really well-cared for. We also donated $1,000 to support a teacher for the orphanage school.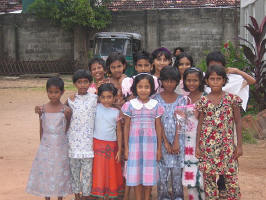 The sponsored orphan girls
Not bad for 6 days!
You really are making a huge difference to the lives of the village. You have helped bring smiles to faces thousands of miles away .Unfortunately, we saw no sign of any improvement at all as we drove down the coast in Sri Lanka. There seems to be no rebuilding for the most part which makes your contribution even more valuable.
I do have to mention how lucky we are to have our friend Sareth in Sri Lanka. He was our driver-guide in 2003 and we met up with him again in 2004. Since we left in January '05 he has arranged everything behind the scenes, set up appointments, settled disputes, paid the bills and helped make things happen. He really deserves a huge vote of thanks from us all.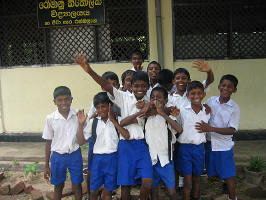 Bye bye see you next time!